Bulk trash pickup
Our community unfortunately does not have the benefit of regular bulk trash pick up like that provided by the city for the rest of "City of Hollywood" residents. We do rent a dumpster once to twice a year from our sanitation service. This does not have a set number or schedule. We rent at the speed of need.
Please do not confuse the rented dumpsters with the dumpster in the parking lot by the pool. No one except the maintenance man is allowed to use this dumpster.
Broward county drop-off centers
We are still City of Hollywood residents which makes us part of Broward county therefore we can take advantage of the county drop-off centers when we are in between dumpster rentals. Please consider going to any of the county drop-off centers, but this one is closest and most convenient: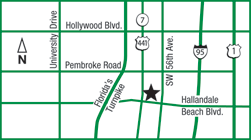 South Drop-Off Center
5601 W. Hallandale Beach Blvd.
West Park, FL 33023
Saturdays only, 9 a.m. – 3​​ p.m.
Waste Disposal Household Hazardous Waste
What to expect if you visit
For both dumping trash and household hazardous waste drop off, you must provide ID to prove you are a resident. They will scan your ID.
If you intend on dumping trash then you must also provide a utility bill.

For household hazardous waste drop off you do not require a utility bill.

Please review the provided links above for what is or is not accepted.
The hours for the South Drop-Off Center are from 9 a.m. to 3 p.m., however the household hazardous waste drop off does close ten to thirty minutes earlier than the dump. They will turn you away if you show up after 2:30 p.m.

You can still dump trash up until 3 p.m., but avoid getting there late – they want to go home.

Please expect the dump to be filthy, there is broken everything on the floor. Mind your shoes and tires.
Please expect to carefully back-in park your vehicle when assigned to a numbered spot for dumping.
Mind the other patrons who are regulars dropping off mostly yard clippings and other landscaping debris.